Welcome to Sonny's Bistro! The perfect spot for a delicious and satisfying meal in Montreal! Whether you're looking for a quick breakfast or a leisurely lunch, we've got something for everyone. Our menu features a wide variety of options, including fresh poke bowls, mouthwatering pizza, flavorful tacos, classic sandwiches, hearty wraps, crisp salads, refreshing smoothies and much more.
the california vibe on your plate

•

made with local products

•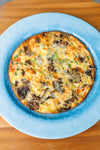 What are your hours of operation?

Monday: Closed
Tuesday: 8 am - 5 pm
Wednesday: 8 am - 5 pm
Thursday: 8 am - 6 pm
Friday: 8 am - 6 pm
Saturday: 8 am - 5 pm
Sunday: Closed

Where are you located?

What's your phone number?