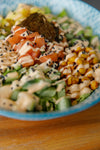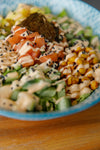 Discover the Best Poke Bowls Near You: Fresh, Delicious, and Healthy Poke Bowl Options
Mar 20, 2023 (Updated on Jul 25, 2023)
Sonny's Bistro – Your Go-To Poké Bowl Spot in Montreal!
Looking for delicious and healthy Poké Bowls in Montreal? Look no further than Sonny's Bistro! Conveniently located at 4048 Rue Jean-Talon O, Montréal, QC H4P 1V5, our bistro offers a variety of Poké Bowl options made with fresh, locally-sourced ingredients to suit your taste preferences.
At Sonny's Bistro, we take pride in our Chicken Poké Bowl made with tender chicken, mandarin oranges, crispy rice, and fresh veggies such as shredded carrots and cucumber. Our homemade poke sauce and sweet soy sauce provide the perfect balance of flavors for an unforgettable meal. If you're a fan of salmon, our Salmon Poké Bowl is a must-try, featuring fresh salmon, crispy rice, edamame, roasted corn, cucumber, and a citrus sesame dressing. For those who love shrimp, our Sweet Spicy Shrimp Poké Bowl is a true crowd-pleaser, made with crispy rice, nori, pineapple, edamame, and cucumber.
We offer three base options for our Poké Bowls: seasoned rice, quinoa, or lettuce. All our bowls are served with fresh lettuce to ensure a healthy and filling meal. At Sonny's Bistro, we believe in using fresh ingredients and homemade dressings to bring out the best flavors in our food.
Visit Sonny's Bistro today and enjoy our delicious Poké Bowls. Our customers rave about the quality and taste of our food, making us a top-rated Poké restaurant in Montreal. Don't miss out on this healthy and tasty meal option!


Blog Made You Hungry?
If our blog post about our food has left you drooling, you're in luck! Come check out our menu today!