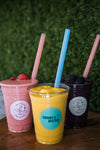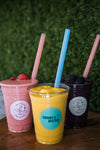 Sip on Delicious and Healthy Smoothies at Sonny's Bistro in Montreal
Mar 19, 2023 (Updated on Jul 25, 2023)
Sonny's Bistro - The Best Smoothies in Montreal
Are you in search of a refreshing and healthy beverage? Look no further than Sonny's Bistro! Our smoothies are made with fresh, locally-sourced ingredients and contain no added sugar. Plus, we've incorporated popular local keywords with high density to make sure you can easily find us when searching for the best smoothies in Montreal.
Our menu boasts a variety of tasty smoothies, each with its unique blend of fruits and veggies. Take our Blue smoothie, for instance, which is made with blueberries, bananas, and your choice of coconut water or orange juice. Or try our Green smoothie, which contains kale, pineapple, avocado, and your choice of coconut water or orange juice.
Looking for something sweeter? Our Red smoothie is a delicious blend of strawberries, pineapple, raspberries, and orange juice. Or try our Rose smoothie, made with banana, strawberries, and orange juice. And lastly, our Yellow smoothie is a tropical mix of peach, mango, pineapple, and orange juice.
At Sonny's Bistro, we believe that you shouldn't have to sacrifice taste for nutrition. That's why our smoothies are both delicious and healthy. Whether you're in the mood for a quick pick-me-up or a refreshing drink on a hot day, our smoothies are the perfect choice.
So come on down to our location at 4048 Rue Jean-Talon O, Montréal, QC H4P 1V5 and give our smoothies a try. We promise you won't be disappointed!


Blog Made You Hungry?
If our blog post about our food has left you drooling, you're in luck! Come check out our menu today!